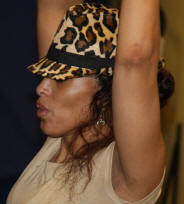 Licensed Zumba® Instructor
Hi, my name is Greta, I currently teach various martial art classes and self-defense. Since I love to dance, and I have no time or desire for the club scene (i.e. family), Zumba Fitness was the answer. Being an incredible compliment to my martial arts, I decided to become a certified Zumba instructor. Zumba Fitness is a fantastic way to get people to exercise and move. I love the fact that everyone can do it! They can burn calories while having a great time and a few good laughs.

Once I tried out Zumba Fitness, I was hooked. The synergy from the members and seeing me in many of them truly makes Zumba Fitness instruction fulfilling like martial art instruction, but what's more, it's a party.

The workout is fun, manageable, and has great rhythmic music to go along with it. Zumba Fitness provides all the necessary ingredients to lose weight, stay fit, and have fun while doing it. If you love feeling the music and want to learn basic movements for a great body workout, then this Zumba Fitness Class is for you.

Check out my schedule and choose your location since we have two. See which plan fits your budget, and then send an e-mail or call to get registered. Next, come join me and experience an invigorating workout. I guarantee you will have a blast! I look forward to meeting you!
Greta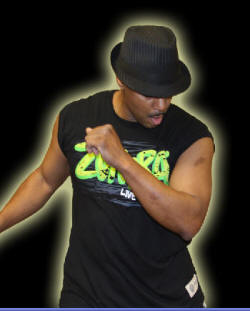 Licensed Zumba® Gold and ZumbAtomic®
Instructor
Hello, my name is "Master P", and I am a professional Martial Art Instructor. I was looking for a way to incorporate the aerobic fitness of dance as a compliment to martial art training. My first thought was Hip Hop because it was so invigorating and diverse in its movements as well as being a familiar style. I knew this would be a great task and a time consumer developing choreography and a plan of action. Then I was told about Zumba Fitness. After researching this fitness phenomenon, it was PERFECT and exactly what I was looking for and more.
My love for teaching and love for the anatomy was a shoe in for the Zumba Gold Fitness program. What's more is that it allows you to be free and flow with the music without rigidness or constraint. Zumba Gold breaks it down to individual steps to help the beginner, as Beto the founder would say, 'Feel the music'. The incorporation of such influential dance styles like Merengue, Salsa, Cumbia, Rock and Roll, Flamenco, the Tango at different engaging levels helps build coordination, balance, rhythm, timing, strength, and most of all endurance. Put all of this together and you have an incredible fat burning cardio workout that you don't even realize you are doing because you are having so much fun 'feeling the music'. I LOVE IT and it's a perfect compliment to my martial arts training like Yin and Yang. If you don't like to be in the big open gyms and you want to let your hair down after work and get rid of all your worries for an hour, then come try Zumba Fitness at PMAFA. You have nothing to lose except extra weight and everything to gain.
"Master P"